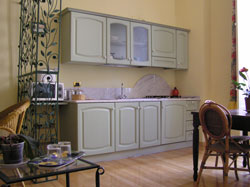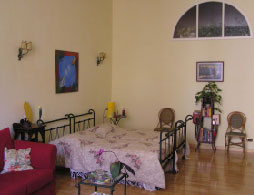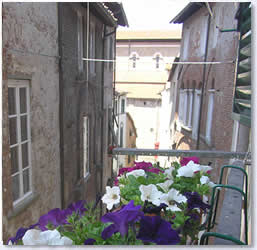 Ancient walls and modern conveniencies.
The apartment is provided with all comforts, including radio, color tv, cd-dvd stereo player, stove, refrigerator, dishwasher and microwave, as well as books and guidebooks in many languages. All services are included: linen, towels, kitchenware, gas, heating, water and electricity, even air conditioning as well as weekly cleaning.
Free wireless broadband dataport for your laptop and telephone line are available. Internet connection fee is included, while phone calls are charged separately.
Just be at the very center of Italian art and lifestyle.
The palazzo is situated in one of the most beautiful parts of Lucca. between impressive 900-years-old church of San Frediano, a Tuscan Romanesque style masterpiece, and dramatic Piazza Anfiteatro, a famous round square laid out within the remains of a 2000-years-old Roman amphitheatre. This district is also known for its nice boutiques and fine cafés and restaurants. Musicians Puccini and Boccherini were born a few steps from here, and many Italian artists and writers used to live in this area.
The owner and his staff will be pleased to give you advice and tips regarding excursions, museums, shops or restaurants, and to offer any possible further assistance.
Individual Italian language and civilization courses are supplied on demand.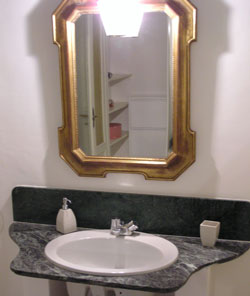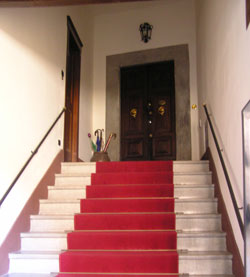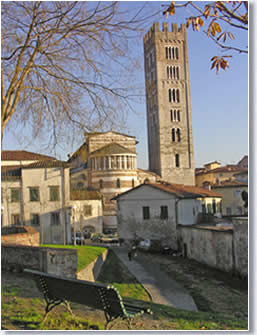 Visit our Residenza in the heart of Lucca.
The apartment is located in a Renaissance patrician house, built by a Senator of Lucca Republic in 1460, and recently restored. The palace is still inhabited by the owners, who live in the main flat, and will be glad to welcome visitors.
This ancient house is situated in the elegant pedestrian area lying in the middle of Lucca city center, the monumental and commercial heart of town. Our Palazzo is placed right on its most renowned street: via Fillungo.
Accommodation at our residence is provided on a daily or a weekly basis (minimum stay 3 nights), for those who want to discover the city and its surroundings at a relaxed pace and who appreciate the warmth, elegance and friendly hospitality of an old house.
You will be a very special guest for us.
This exclusive residence consists of only one studio apartment, next to the owners' flat. It is more than 50 square meters wide, and has its own separate entrance. It has been restored using only valuable traditional materials, fully respecting the original structure.
It includes a sleeping alcove with a romantic wrought iron double-bed, a living area with characteristic furniture, an eat-in kitchen with an antique table and built-in cabinetry in wood and marble. From the balcony one oversees part of the city's roofs and monuments.
A large en-suite marble bathroom with shower and a cloakroom with a cupboard for your clothes, a little one for your shoes and a safe are part of the apartment as well.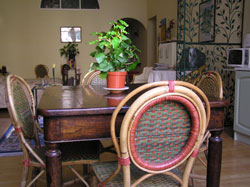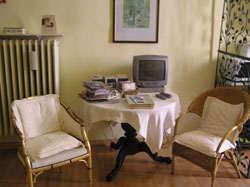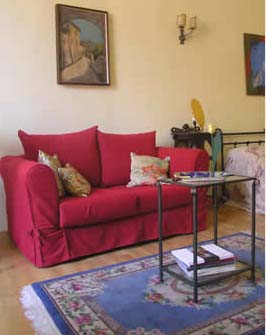 The hospitality of a private home and the freedom of a hotel at a competitive price.
From your large suite, at a very convenient price, you will get a real insight view into the pleasant lifestyle of Tuscany, have the opportunity to plan your vacation in total freedom, and profit at the same time of the assistance and the atmosphere of a living house.
The residence is open all year round, but we suggest reservations be made no later than 3 weeks in advance.
The apartment can accomodate two or three people. Pets are allowed, although a small fee is requested for them. We also ask that you kindly advise us beforehand if you are travelling with pets.
Come and taste the lingering ancient atmosphere and the pleasantness of charming Lucca!